Biography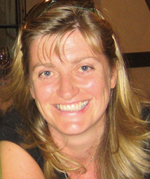 Laura Cull was born in Cork in 1969 and studied painting in the college of Art & Design, Waterford, graduating in 1991. She has exhibited widely in both group and solo shows. She now lives and works in Connemara in the west of Ireland.
Brief on work
My current work is largely inspired by the Connemara land and seascapes and marine life. The land and in particular the sea are in a constant state of flux and my work captures the energy, vibrancy and excitement of the movement of water and light. The essence of the sea is established through layering of paper and oils so as to create paintings that have depth and richness, reflecting the many differing levels of the sea and oceans. Splashes of gold, greens and blues collide and merge, reflecting the unpredictability, power and texture of the water reacting with other natural elements of wind and light. I interpret and capture this merging of forces of nature in a playfulness that allows the observer to create their own interpretations of the finished pieces of art.
The more heavily textured paintings are created using an intricate process involving multiple layers of wax, plaster and paper. These are done on a more solid board base. The detail is achieved by etching and carving into these materials. Oils are then applied using a number of different application techniques. This includes glazing with semi-transparent oil paints in order to accentuate the underlying colours.
All paintings are box framed using wooden frames that are finished with either a lime wax finish or a light coloured stain.
Education:
1987-1991:              BA in Fine Art from College of Art and Design (Waterford IT)
1991-1993:              Member of the Backwater Artists Studios, Pine Street, Cork.
1993-1994:              Member of The Art Hive Studios, McCurtain Street, Cork.
1994-1996:              Travelled extensively throughout Australia and south-east Asia.
1997- date:              Moved to Renvyle, Connemara, Co. Galway.
Gallery artist:
2020 Art Gallery, North Mall. Cork City.
The Whitethorn Gallery, Clifden, Co. Galway.
The Courtyard Gallery, Midleton, Co.Cork.
The Salamander Gallery, Belfast.
Collections:
Laura Cull is represented in many corporate and private collections in USA, Australia, Germany, United Kingdom, France and Ireland.