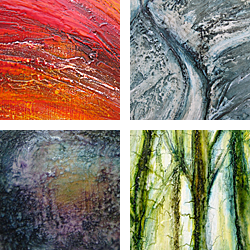 Laura Cull is a mixed-media artist who lives and works in Connemara in the west of Ireland.
She was born in Cork in 1969 and studied painting in the college of Art & Design, Waterford, graduating in 1991. Laura has exhibited widely in both group and solo shows.
The rugged and everchanging Connemara landscape inspires much, though not all of her work. Her paintings are created using an intricate process involving multiple layers of wax, plaster and paper. The detail is acheived by etching and carving into these materials. Oils are then applied using a number of different techniques. Finally the finished work is glazed with semi-transparent oils in order to accentuate the underlying colours.